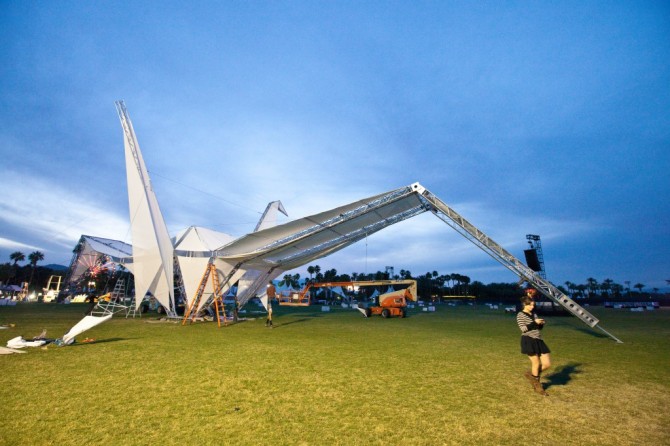 Collaborators: Behn Samareh, Tom Kopp, Jose Mathias, Greg Perham, Ando Pndlian, Nick Vida, and Derrick Williams.
Posted on April 10, 2010
In 2010, Crimson Society was commissioned to create an installation for the Coachella Music and Arts Festival.Ascension, also lovingly known as "Coco", is a 150 ft wide and 45 ft tall giant white origami crane crafted from soaring planes of white fabric and aluminum truss and tension wire skeleton.Her wing span is roughly the size of a Boeing 747. The aluminum structure is modular, making the crane a temporary installation, but completely mobile and can be assembled on almost any flat site. The 100+ components and over 7000 sf of 80% mesh texilene sunshade material, that make up the crane, can be dismantled and shipped in one 40 ft shipping container to a new site anywhere around the globe.
Contact us if you are interested in bringing Coco to your event.
Press:
Coachella 2010:
Mexico City - SyFy Universal 2010:
Burning Man 2017:
Drone footage courtesy of Greg McAdoo